Site / Store Management – Wysiwyg Editable Areas
WYSIWYG stands for "what you see is what you get," and enterpriStore's admin features are built around this philosophy. On every editable page, the template you're looking at will look just like the final page published on your website. Many people think of website programming and editing as typing in complex combinations of random-looking text or ones and zeroes. That's absolutely not the case with our admin features. You'll type text and values right into the page, so you can see exactly what you're doing. When you publish your revised page, there won't be any surprises in how it looks; all the changes will be exactly as you made them in the template. It's simple and effective. We believe this approach is the best way to give people direct control over their websites. You don't need to hire a programmer or web designer. You can do everything yourself and create a website that looks exactly how you've imagined it.
enterpriStore's admin features include editable templates for every page you might need for your ecommerce site. That means that you have total control over the content in every single area of your site. You can add or revise content for everything, from the home page, to the login page, to the checkout page, to email templates, to the admin area. Scroll down to see a complete list of all the areas you can add custom content to. You're in control of how your website looks to every customer and employee. In our experience, we've found that this makes for highly effective and professionally customized websites.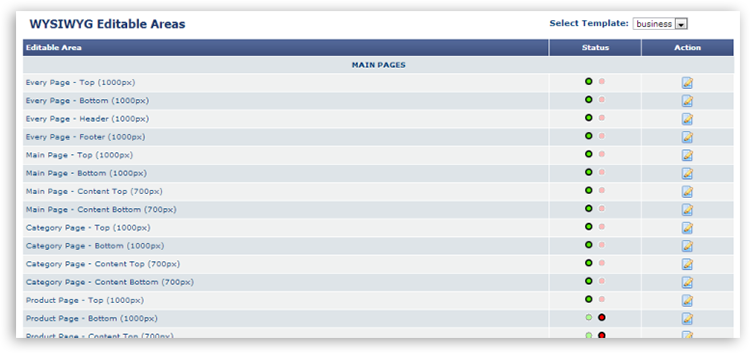 You Have Total Control Over Adding Extra Content To Each Area of The Site
MAIN PAGES
Every Page – Top (1000px)
Every Page – Bottom (1000px)
Every Page – Header (1000px)
Every Page – Footer (1000px)
Main Page – Top (1000px)
Main Page – Bottom (1000px)
Main Page – Content Top (700px)
Main Page – Content Bottom (700px)
Category Page – Top (1000px)
Category Page – Bottom (1000px)
Category Page – Content Top (700px)
Category Page – Content Bottom (700px)
Product Page – Top (1000px)
Product Page – Bottom (1000px)
Product Page – Content Top (700px)
Product Page – Content Bottom (700px)
Product Page – Right Side (150px)
Search Page – Top (1000px)
Search Page – Bottom (1000px)
Search Page – Content Top (700px)
Search Page – Content Bottom (700px)
LOGIN / REGISTRATION
Login Page – Top
Login Page – Bottom
Login Page for Group – Top
Create Account – Top
Create Account – Bottom
Create Account – Right Side (300px)
My Account – Top
My Account – Bottom
Order Status – Top
Order Status – Bottom
Order Status – Right Side (200px)
CHECKOUT PROCESS
Shopping Cart – Top
Shopping Cart – Bottom
Shopping Cart – Right Side (150px)
Checkout w/out Account – Top
Checkout w/out Account – Bottom
Checkout w/out Account – Right Side (300px)
Checkout Shipping – Top
Checkout Shipping – Bottom
Checkout Shipping – Right Side (200px)
Checkout Payment – Top
Checkout Payment – Bottom
Checkout Payment – Right Side (200px)
Checkout Confirmation – Top
Checkout Confirmation – Bottom
Checkout Confirmation – Right Side (200px)
Checkout Success – Top
Checkout Success – Bottom
EMAIL TEMPLATES
Email Templates – Top
Email Templates – Bottom
Printable Invoice / Packing Slip – Top
Printable Invoice / Packing Slip – Bottom
Printable Quote – Top
Printable Quote – Bottom
MERCHANDIZING PAGES
Clearance Page – Top
On Sale Page – Top
Sustainable Page – Top
Tria Page – Top
OTHER PAGES
Contact Us Page – Top
Contact Us Page – Right Side (250px)
Quick Order – Top
Write Review – Content Top (700px)
Write Review – Content Bottom (700px)
Tell a Friend – Top (1000px)
Tell a Friend – Content Top (700px)
Tell a Friend – Content Bottom (700px)
Splash Page
"Free Flow" Layout