Customer Service Management
This is why we sell… Customers… They want the products we sell and they want it now. Give it to them …NOW. enterpriStore is about instant gratification for your customers. They can find a product, buy it, get the freight cost and be done… And so can you… no more calling to get freight quotes… it is all done for you in seconds… This means greater productivity and happy customers…
You can the track customers as they come into the store and see where they stall and the sales process is terminated. You can recover the cart… and learn how you can make the store more user friendly..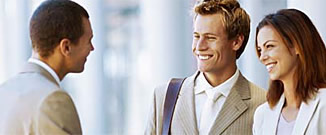 My Accounts
enterpriStore
Manage Users – Master and Secondary Users
Yes
Order Activity
View / Print Invoices
Yes
View My Addresses
Yes
Track My Order
Yes
View Order History
Yes
Quick Catalog Order
Yes
View Saved Carts
Yes
Features
Manage Shopping List
Yes
Manage Wish List
Yes
Quick Order
Yes
Recently Viewed Items
Yes
Loyalty Program
Yes
Request a Quote
Yes
Give Us Your Feedback
Yes
Wysiwyg Areas
Yes
My Account – Top
Yes
My Account – Bottom
Yes
Customer Service Features
enterpriStore
My Account Status History
Yes
Buy Online And Pickup At The Store
Yes
Click To Call / Click To Talk
Yes
Currency Converter
Yes
Customer Center Hours
Yes
Customer Service Call Support
Yes
E Gift Certificate
Yes
Email
Yes
Estimated Delivery Time
Yes
Express Checkout
Yes
Free Return Shipping
Yes
Free Shipping
Yes
Gift Wrap Available
Yes
In Store Returns
Yes
International Shipping
Yes
Live Chat
Yes
Multiple Languages
Yes
Overnight Shipping
Yes
Pre Paid Labels
Yes
Real Time Inventory Check
Yes
Return Policy Posted
Yes
Ship To Multiple Addresses
Yes
Shipment Tracking
Yes
Shipping Cost Calculator
Yes
Shipping Cutoff Time
Yes
Customer Listings

Create, Edit, Delete Accounts

Customer Search On Any Field In Customers Table

Customer Groups provide Different Pricing / Taxing

Customer Groups Free Shipping Thresholds

Detailed Customer Reports

Easy Emailing To Customers

Customers Surveys

Recover Lost Carts

Login As Customer
My Accounts – Customer Management Portal
Our Customer Service Management adminstration main landing pages gives your customers complete control over managing their account.
Customer Service Contact Mangement

Complete Account Management with Main User and Sub User Accounts

Lookup Current Orders Status and Tracking

Invoice Lookup History

Catalog Number Orders, Quick Orders

Manage Saved Carts, Shopping Carts, Recent Browsing History and Wish Lists

Loyalty Program Access

Gift Coupon Adminstration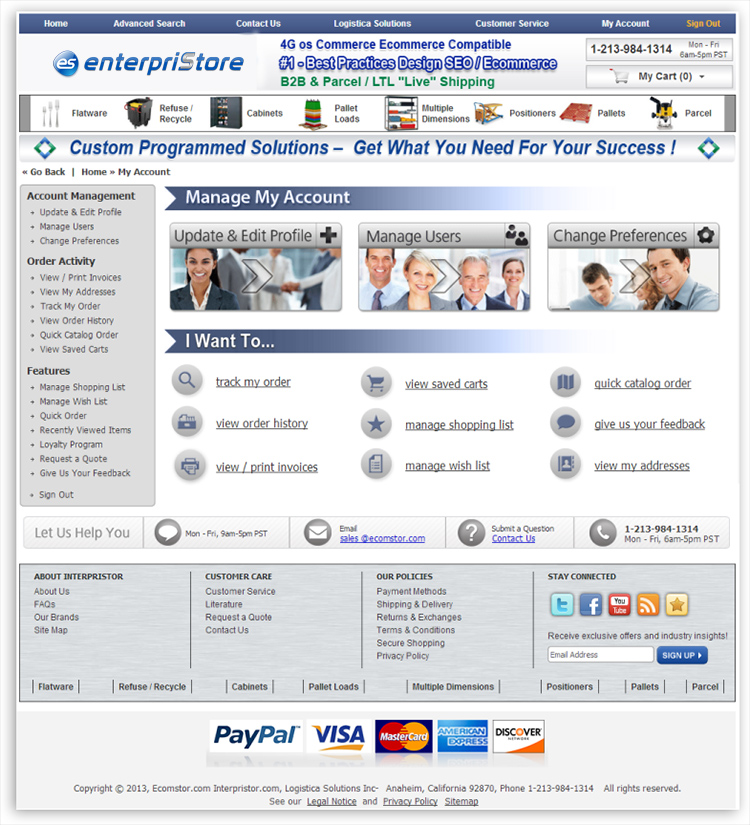 Customers – Sortable & Searchable Listing
Pleasing your customers is the most important thing you can do to make a successful ecommerce store. Customers need to be able to find the products they want quickly, and they need to be able to buy them easily. EnterpriStore's customer service management tools mean that customers can navigate the site easily, and you can track your performance with customers.
On your ecommerce site, customers will find all the features they need for an easy and enjoyable shopping experience. These include order features, such as the ability to print invoices, track orders, view order history, view saved carts, and quick catalog orders. You can also offer them classic ecommerce features, such as a wish list, recently viewed items section, feedback section, and loyalty program. Customers have complete control over managing their accounts, which will improve their experience on the site and make it easier for them to buy products from you. Your ecommerce site will also come equipped with a full suite of customer service features. You can add customer center hours, email options, a posted return policy, and in store returns. You can also make it easy for customers to contact you with "click to call" and "click to talk" options. EnterpriStore also offers customer service call support. These tools make it easy for customers to reach you and resolve any issues.
EnterpriStore's tools also enable you to keep track of customer activity. There is a customer listing that is both sortable and searchable. You can use it to find the profile of any customer, view their account details and orders, and get in touch with them. You can also create an unlimited number of customer groups. For example, you may want to create different groups for distributors, wholesalers, and frequent customers. You can assign different pricing to each group, and customers within each group will only be able to see their own pricing. This allows you to manage your customer base effectively and keep all of your customers happy.