Intelligent Connect allows Manual and LIVE Data interchange with all your 3rd party Accounting and ERP and Supply Chain systems. XML Interface provides instant and secure access to your data.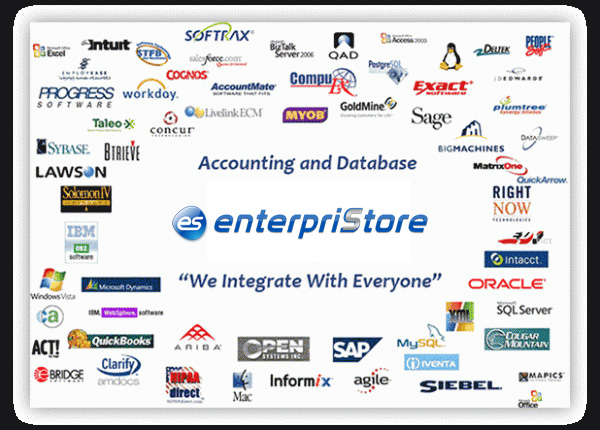 Intelligent Connect
Data security is very critical to your success and we make your job easy in that way. First, we have a backup system that allows us to restore your ecommerce site to exactly where it was before the backup within minutes.. We also keep daily backups of your site and data.
We offer built in technical tools such as Phpadmin and Sidu, linked directly to your database files. You can edit your files directly on the server if you choose. We also have easy to process methods of moving data from your desktop, or another ecommerce site directly to your Ecomstor site.
We also offer Instant reports.. pre-configured to tell you exactly what is going on in your store and the use of Report Writers to customize information you wish to receive.
We can convert your old site into a Ecomstor site, move databases and files and images… we can move anything …. as we created a XML data structure that integrates to every kind of data stream..
We can take the data from our system and transfer it to other programs such as your internal accounting programs or where ever it needs to go.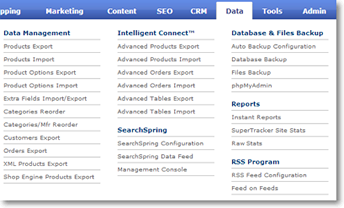 Intelligent Connect – Advanced Data API
Product Extra Data Fields For Faceted / Guided Navigation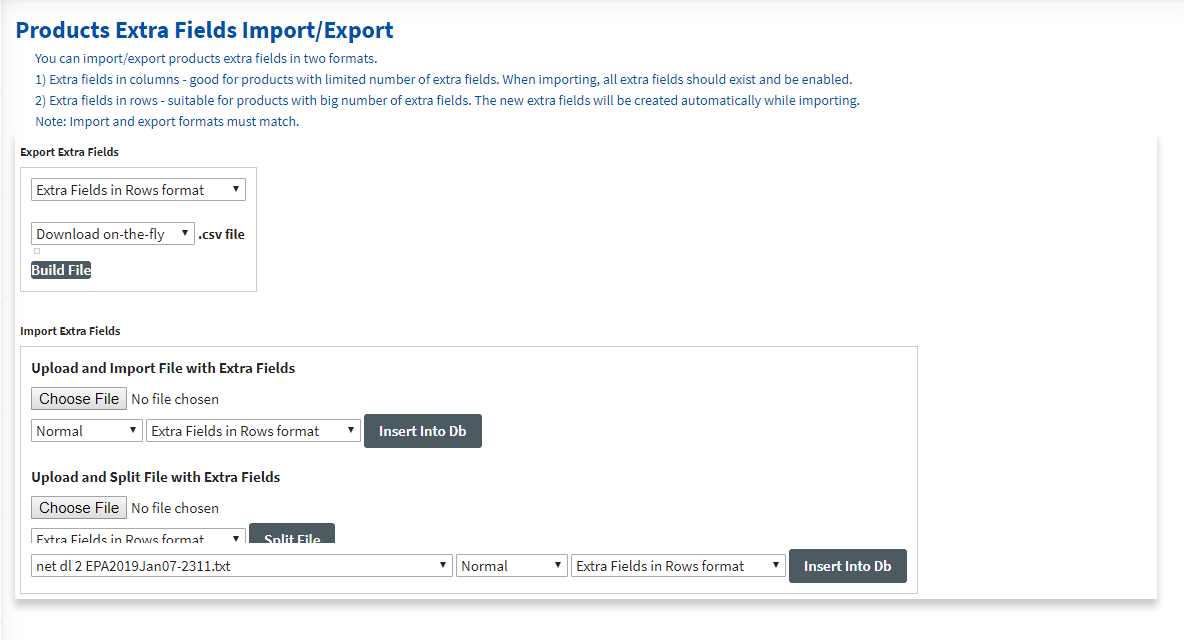 Database Backup – On Server or Download to Desktop or Redundant Site Backup Via Cpanel
Database Editor – phpAdmin – Sidu
Product Import & Export – Options & Attribute Import & Export
Customer Import / Export
RSS Feed Configuration – Feed On Feeds – Add This – HitRSS – Submit RSS Feeds
Reports – Instant Reports – Supertracker Site Stats
Report Writers – QLR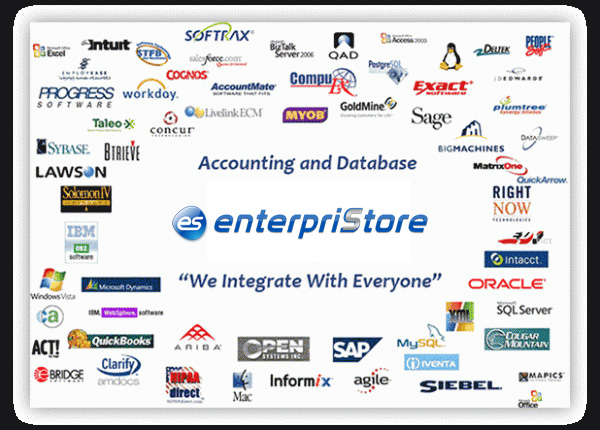 Data
Data management is an integral part of an ecommerce site. EnterpriStore provides a group of data tools so that your data is secure, easy to use, and easy to move. If you wish to convert your old site into an Ecomstor site, we have data management tools to make that easy. Using an XML data structure, you can transfer your old database, files, and images from your desktop or from an old site into a brand new ecommerce site. EnterpriStore integrates with every kind of data stream to ensure that you can transfer all of your information without any of your data being corrupted.
Once you have a site with EnterpriStore, you can rest assured that all of your data will be kept secure. The system will automatically create daily backups of your entire site and all your data. If you ever need to, you can restore your ecommerce site using these data backups. The restoration process takes only minutes, so you don't have to worry that your site will be down for a long time. You'll also be able to edit your database files easily. We include technical tools such as Phpadmin and Sidu, which link directly to your database files. You can edit these files directly on the server.
EnterpriStore tools also enable you to use your data effectively. We offer Instant Reports, which are preconfigured to show you exactly what is happening on your ecommerce site. You can use these reports to improve your site and build your business. In addition, EnterpriStore is integrated with a number of accounting, ERP, and supply chain systems. You can easily use data directly from your ecommerce site for whatever you need.