enterpriStore – Freightquote.com- Ecommerce Parcel & LTL & TL Shipping

Same Freight Quotes you get via Phone, Email & fax
Includes Quotation, Tracking and BOL Generation.
Mutliple Ship From Locations for each Vendor & Product
Dual Quotes for Parcel & LTL
Intelligent Quotations – Parcel & LTL & TL Shipping Methods
Single Boxes Single Pallets Multiple Pallets LTL & Truckloads

Estimate Freight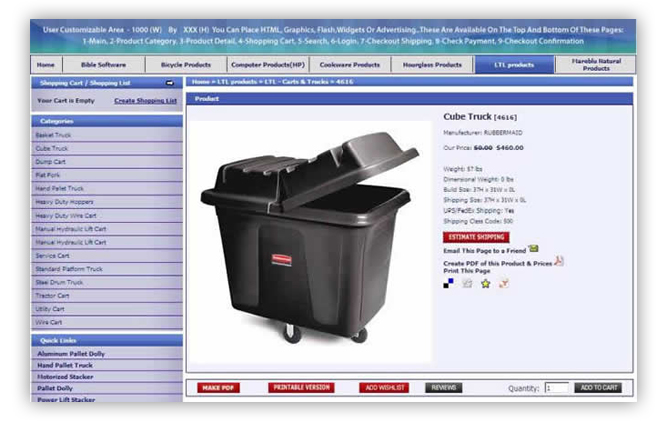 Freight Popup

Duel Quotes On enterpriStore Product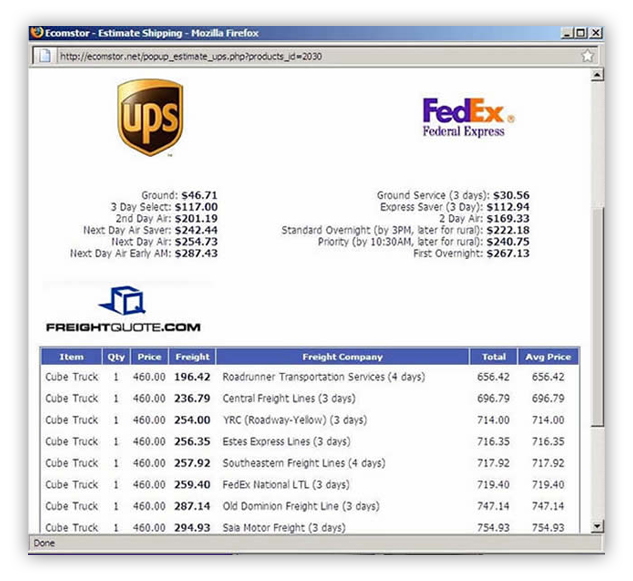 Product Info & Link in PDF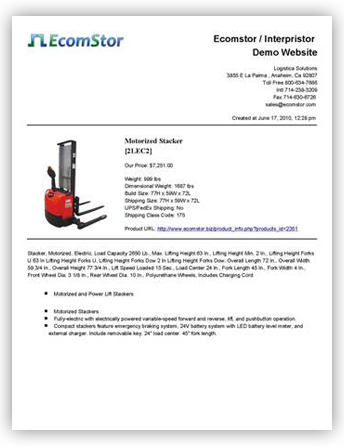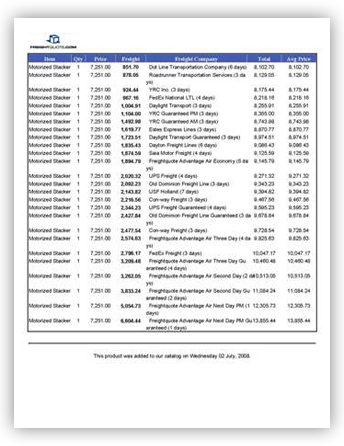 Freightquote.com- LTL Shipping – enterpriStore – Home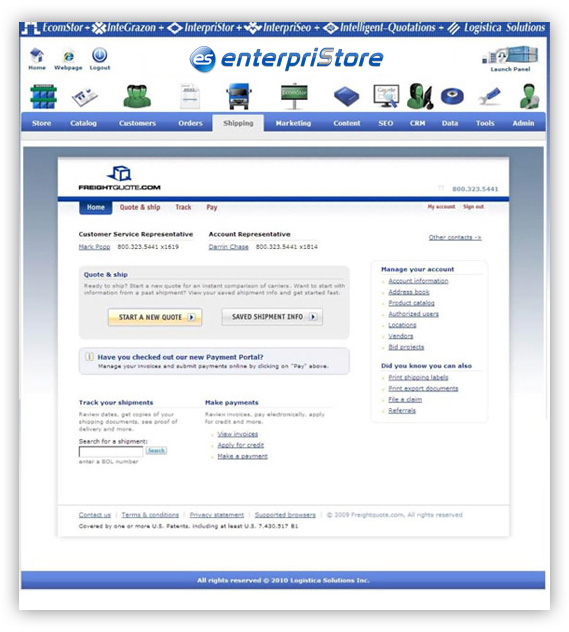 Freightquote.com- LTL Shipping – enterpriStore- Quotation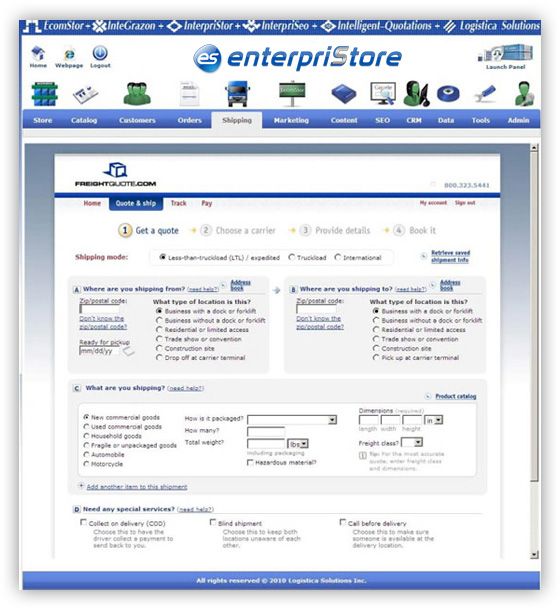 SHIPPING METHODS
enterpriStore
National Parcel Shipping – UPS, Fedex, USPS
International Parcel Shipping – DHL
National LTL Shipping – Con-way, Fedex Freight, Freightquote.com, Yellow, USF
National Truckload Shipping – Con-way, Yellow, USF, DB Schenker
National Inter Modal Rail Shipping – CSX
International LTL Shipping & Ocean Cargo Shipping– DB Schenker
Parcel
LTL – Parcel sized products at higher volumes
LTL Larger products
LTL Pallet Loads
LTL Partial Loads
TL Truckload
Rail / Intermodal
Ocean Containers
Ship From One (1) Location To 1 Location.
Ship From One (1) Location To Multiple Locations.
Ship From Multiple Locations To One (1) Location.
Ship From Multiple Locations To Multiple Locations.
Sell One Product From Multiple Ship From Addresses Our Program Finds The Closest Product With The Cheapest Freight
Customer Specific Pricing With Customer Specific Freight Options.
Parcel Shipping Quote Modules – Fedex, UPS, DHL, USPS Quotes
Parcel Shipping Addons – Eshipper, Readyshipper , True Shipper
Fulfillment Addons – Shipwire
Transfer to Accounting, ERP, Supply chain software.
LTL ( less Than A Load) for Larger order of parcels
LTL for larger items
LTL for pallet loads
LTL for partial loads
Truckload for partial loads
LTL Shipping Addons
Classit
Freightquote
Cerasis
Con-way
DB Schenker
Yellow
FedEx Freight
Parcel – Ship Single / Multiple Order To Multiple Locations
Each Product From Each Ship To Location Can Have A Specialized Shipping Method.
Each Major Customer Or Distributor Can Have Unique Shipping Methods.
Each Vendor Can Sell Different Products And Use Many Different Shipping Methods
If A Manufacturer Has 4 Locations And Each Location Has A Different Set Of Products And Some Products Are The Same Among All The Branches And Some Are Unique
Customer Chooses A Product Sold At 4 Different Locations… Our Program Will Determine Which Manufacturing Faculty Has The Product At The Least Amount Of Freight
Customer Buys 3 Products… And All Come From Different Manufacturing Locations – The Customer Will Get 3 Invoices With Freight Based On 3 Different Locations
Each Major Customer Can Have Their Own Freight Company…
Choice Of Vendor Supplied Freight Or Buyer Arranges His Own Freight
In The Dimensional Weight Of A Group Of Products Is Over 150.. Then A Automatic Lookup Is Enabled That Will Give Both A Parcel Price And An LTL Price.
Freightquote.com Shipping
EnterpriStore provides all of the tools you need to provide your customers with accurate and detailed shipping quotes. Right on the site, you can receive the same freight quotes you would otherwise get via the phone, email, or fax. This means that you don't have to wait in order to give your customers freight quotes. Your customers can automatically view their quotes in a freight popup window that will not take them away from the product they're looking at. They can also receive dual quotes from multiple shipping providers. For the same product, they can see prices and delivery times from a whole list of freight companies, all compared to an average price to help them choose the best deal for them.
In addition, EnterpriStore is fully integrated with Freightquote.com, a website that specializes in providing quotes for LTL shipping. From directly within your ecommerce store, you can generate a new quote and access saved shipping information. This is a great way to keep track of previous quotes and orders. The process of creating a quote is simple. You simply enter in details about where you're shipping from, where you're shipping to, and the product you're shipping. Freightquote.com then provides you with options to choose a carrier and then enables you to book the shipping directly through the site. EnterpriStore and Freightquote.com provide you and your customers with the knowledge to make the right choices and the tools to quickly book and ship all your orders.