Content Management
Content will make or break your ecommerce experience. In today's world, you must be ready to talk about your products. You need content and you need to keep it coming. You content pages, blogs, wikis, images and videos and every possible way to display information about your products.
We have integrated into Ecomstor / enterpriStore all the content management program you will need. ( Joomla, Drupal, Php-Nuke, PostNuke, ocPortal and Xoops).
We have integrated in other types of content pages such as blogs ( WordPress and b2evoution ). We have MediaWiki… the originator of Wikipedia.
You will need a place to keep all the articles and pdf files that you create. We have a built in Article Manager to keep track of your literature. Everything is in a search engine friendly format.
You can use all these content tools in different ways to drive sales to your ecommerce site…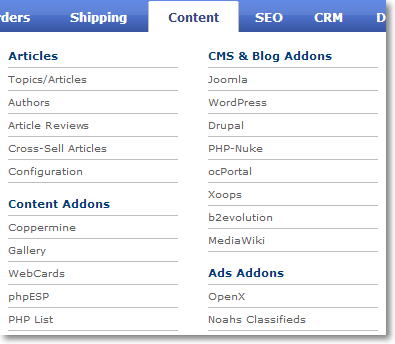 Content Management – Drupal – Integrated Addons Example With Integrazon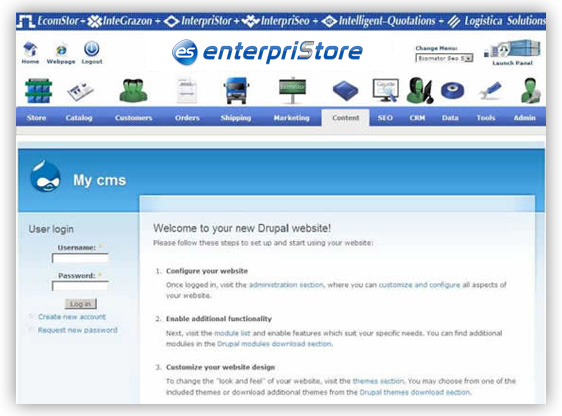 Article Management
CMS Addons – Joomla – Drupal – PHP-Nuke – PostNuke – ocPortal – Xoops
Blogs Addons – WordPress – b2evolution
Wikis- Mediawiki
Image Addons – Coopermine – Gallery 2
E-Cards Addons – WebCards
Video & Sound Podcasting – Shoutlet
Integrated Content Management Systems
Integrated Image Addons
Content
In today's world, simply having product listings isn't enough to make an ecommerce site successful. You also need high-quality content. You have to be able to talk about your products, and you need to create a variety of content, including blog posts, images, videos, and podcasts. Having different kinds of content gives your customers different ways to interact with your company, and that content works to create a lasting connection with your customers. Content also helps to draw more traffic to your website. Having a solid collection of blog posts, videos, and other pages will enhance your search engine rankings and draw in more potential customers.
EnterpriStore provides all the content management tools you need to optimize your site. Your ecommerce store will be automatically integrated with blogging and content management tools, including Joomla, WordPress, Drupal, PHP-Nuke, ocPortal, Xoops, b2evolution, and MediaWiki. This means that you can use the most effective content management platforms directly from your ecommerce admin menu. You can easily use these tools to create photo galleries, blog posts, interactive wiki pages, podcasts, e-cards, and more. All of this content will be seamlessly integrated into your site.
EnterpriStore also provides tools to save and monitor all of your content. The built-in Article Manager saves all of your blog posts and articles so that you can easily find them. The Manager also saves your articles in a search engine friendly format, so users are more likely to find your blog posts when they do a relevant search online. When you use these content management tools and create a variety of content, you may be surprised by how much more traffic comes to your site.