Category Products Results Pages – Faceted Guided Navigation
Category and product faceted guided navigations allow your customer to refine their selection of products to be viewed by choosing product attributes they want to view. Faceted Search provides a framework to focus on desired products by removing the undesired products from their view. Focus is then ONLY desired products.
Each choice provides fewer and fewer products meeting the search criteria of the Customer and enables the Customer to find what they want based on criteria that is important to their search.
You can also easily upgrade your osCommerce compatible Ecommerce systems with faceted search navigation. We use Extra Fields and Fulltext search to acheive Search Engine performance without using Lucene SOLR Search and faceting. Faceted search results of up to 3,000 products in seconds.


In this case – if you searched for Salad Forks – you would be given a selection of 41 products. You can then further define the type of Salad Fork you desire by clicking on the left navigation menu facets and the selection will be refined even more… Example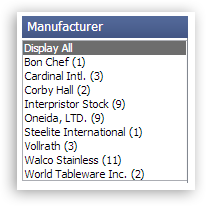 You could select the 41 possible products in Salad Forks by the manufacturer of the fork
.Bon Chef – (1) One Product

Cardinal – (3) Three Products

Corby Hall – (2) Two Products
Etc..etc…
Refine the Search By Prices

Refine the Search By Capacity

Refine the Search By Color

Refine the Search By Weight

Refine the Search By Source

Refine the Search By Free Shipping Eligible
Faceted Navigation
All of EnterpriStore's search results have been designed using faceted navigation. Faceted navigation is the kind of navigation used by the most successful ecommerce sites in the world, such as Amazon and Ebay. It allows customers to narrow down search results to find what they're looking for more easily. Faceted navigation works by allowing customers to refine their search results (for either categories or products) by choosing the product attributes they want to view. For example, customers might want to view products made by a certain manufacturer or within a certain price range. Depending on the kind of product you offer, they may also be looking for products with a certain color, weight, capacity, size, or shipping option. You'll be able to specify all of these details for your products so that customers can search for products based on exactly what they're looking for. All of these options will be included in the side bar of their search results, making it easy for them to narrow down the results. This faceted search provides a framework to focus on desired products and excluding undesired products, making it as easy as possible for customers to find exactly the products they want.
Customers will also be able to sort their search results so that products that meet their priorities are displayed first. For example, they can sort by the lowest price, the highest price, the product name from Z to A, or the product name from A to Z. This enables customers to browse through the product results in a way that makes sense for them. In addition, EnterpriStore uses extra fields and full text search to optimize search engine performance, all without using Lucene SOLR search. Our faceted search tool is powerful and can display up to 3,000 products within seconds.