My Accounts – View / Print Invoices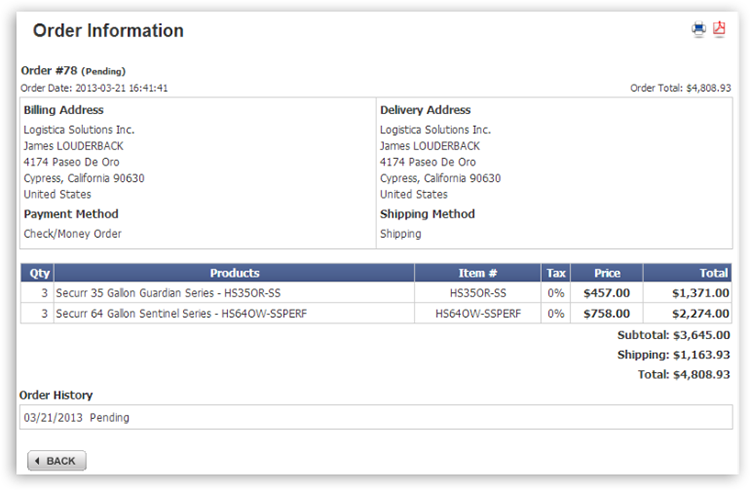 It's important on any ecommerce site that customers can access their invoices easily. This gives them confidence that their order has been placed properly and helps them in their record keeping. EnterpriStore makes it easy for all of your site's customers to find and view their invoices. On the My Order History page, customers will see a list of all their invoices. In order to narrow down the list, they can filter it by order status or by date. The list includes the date of the order, the order number, the order's status, and the total cost. From directly within this list, they can print their invoices or click "Details" to view the details of a particular invoice. The Print option is very useful for businesses or individuals who like to keep paper records.
If they want to review an order in more detail, they can access a page featuring the complete order information with a single click. This page includes the order number, order date, and order total right at the top. It then displays the customer's billing address, delivery address, payment method, and shipping method. The page then includes a detailed list of all the items purchased as part of the order. This includes each item's name, item number, quantity, tax, unit price, price per item, shipping cost, and total cost. Below this list, customers will see a log with their order history, including when the order was pending and when it was completed. This detailed sheet provides customers with all the information they might need about their orders.