Search Spring Guided Faceted Navigation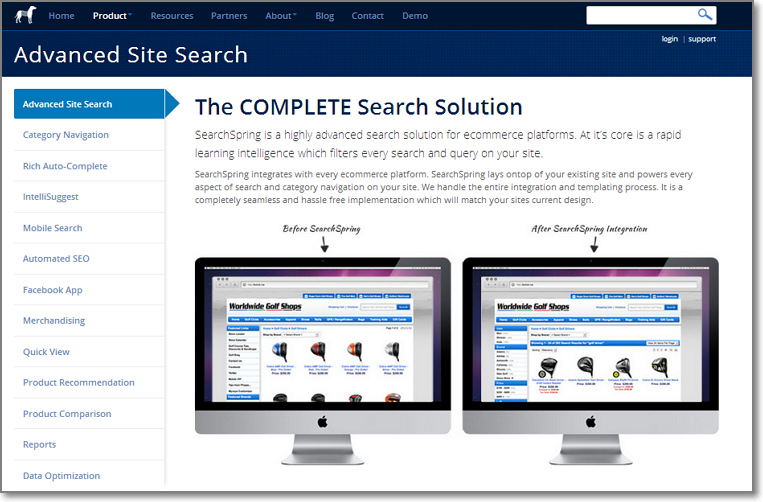 RICH AUTO COMPLETE Display search suggestions and product suggestions while your visitor types in your search box. learn more
CATEGORY NAVIGATION Allow shoppers to drill down through a hierarchy of navigational items and at the same time filter those results. learn more
INTELLISUGGEST We monitor each and every visitor to your site and analyze their behavior against all your past site visitors and search trends. learn more
MOBILE SEARCH Deliver your catalog as a separate mobile site that is auto-generated and powered by Intellisuggest. learn more
AUTO SEO Automatically create landing pages for your sites most popular long-term search keywords/phrases. learn more
MERCHANDISING Take advantage of your site's real-estate and drive awareness of promotions by creating and managing campaigns. learn more
QUICKVIEW Add weight to product attributes to help ensure customers receive the most relevant results. learn more
PRODUCT RECOMMENDATIONS Manually control the ordered display of products within SearchSpring merchandising. learn more
PRODUCT FINDER Allow customers to filter results using specified facets that are grouped together in a stand-alone widget.
Search Spring Navigation
EnterpriStore has teamed up with Search Spring, a powerful ecommerce search solution that makes it as easy as possible for your customers to navigate product searches. Search Spring provides customers with lots of options to narrow down their search results, so it's extra easy to find exactly what they're looking for. Customers can filter results by category or subcategory to look at a particular kind of product. They can also filter results using a number of produce qualities, including price, manufacturer, color, and size. This makes searching much faster and easier.
Search Spring is an intelligent navigation system that provides customers with targeted recommendations. As the customer begins typing into the search box, Search Spring provides rich auto complete, which will display search suggestions that change as the customer continues to type. This makes it faster for them to enter search terms and can help them if they can't remember the exact name they're looking for. You can also use Search Spring to create product recommendations. You'll be able to manually order product recommendations to promote product merchandizing.
What makes Search Spring stand out from other search and navigation tools is its intelligence – Search Spring works based on a rapidly learning system that constantly uses the information it gathers from your customers' service to work more effectively. Search Spring will monitor activities from all of your visitors in order to assess search trends. This information can help you to improve your produce selection and your website design. Search Spring also has an intelligent Auto SEO tool, which you can use to automatically generate landing pages for your site's most popular search terms. In addition, Search Spring works on mobile, meaning your customers will be able to search through your products no matter where they are.