Intelligent Sales Quotations With Instant Freight Quotes
Sales quotations with freight is a fact of life…
Your customer is interested in your products and they want to see a price with freight.
If you are selling larger orders or larger sized products then you can't ship via UPS or FedEx. You need to get an LTL ( Less Than a Load ) freight quotation and add it to your order. So.. how exactly do you get this freight quotation.
If you are like the majority of companies… you are now searching for some freight quotes…. You are either on the phone or faxing the shipment details to a freight company or maybe you are getting the freight quotes online…
Regardless.. You are spending a lot of time and effort to complete the Sales quotation process…
Intelligent Quotation streamlines the freight quotation process… from hours or days to minutes.
100% Customizable Templates
Instant Email of Sales Quote with Adobe Pdf
Attachment of product literature with Images and Information
Freightquote.com offers usually twenty competitive quotes from an area which different pricing depending on the delivery speed.
Intelligent Quotations – Quote Emailed With PDF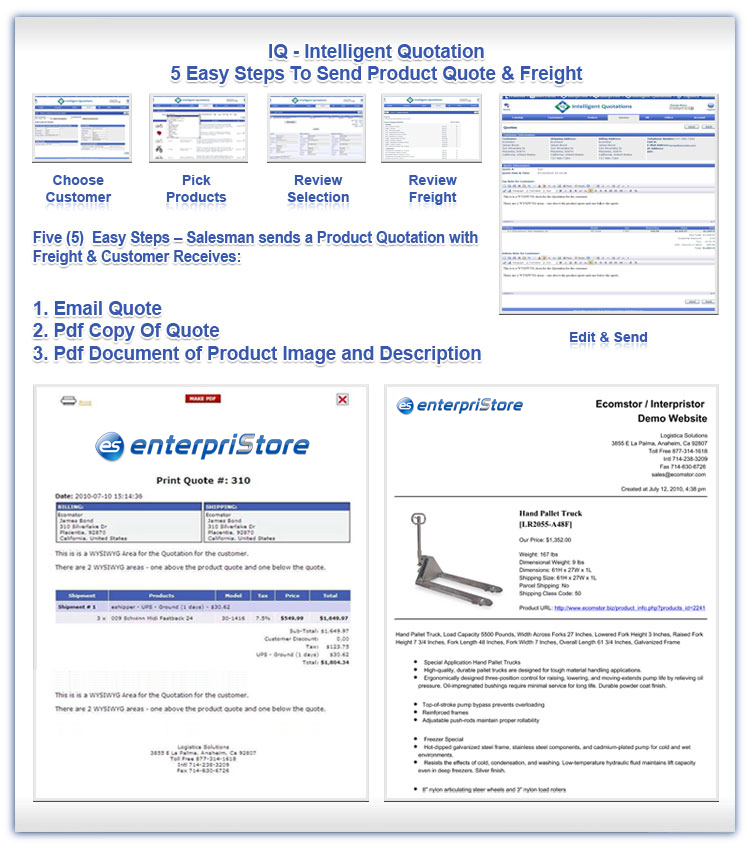 Product Image and Description Sent as An Addon PDF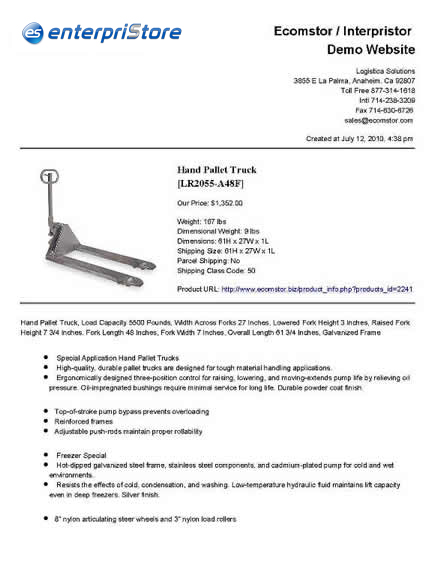 At EnterpriStore, we have partnered with a number of other businesses to bring powerful tools to your ecommerce business. One of these partners is Instant Freight Quotes, which has been entirely integrated into the EnterpriStore website. Instant Freight Quotes helps to make an essential part of fulfilling orders much easier. When you are selling large products or big orders, you won't be able to ship with FedEx or UPS. Instead, you'll need to ship using LTL (less than a load), which requires a freight quotation. The typical methods of obtaining quotations are over the phone or the fax, which takes a lot of time. Instant Freight Quotes makes this process much easier and faster.
You simply enter in the customer, product, and quantities for the order. Instant Freight Quotes will then instantly provide you with quotes from all of the top shipping companies, including ABF, Con-way, DB Schenker, FedEx Freight, and Yellow. Instant Freight Quotes usually provides you with about twenty competitive quotes, with different pricing options for different delivery speeds. This means that you can provide your customers with the best possible price and a range of shipping options. You can then create an Adobe PDF with the quote and send it via email to your customer. This makes it as easy as possible to communicate and inform your customer of the shipping price. You may also choose to send the product image and description as an additional PDF so that the customer knows exactly what the quote is for.
The Instant Freight Quotes tool will drastically speed up your quotations and shipping process, and in turn will help both you and your customers to save time and money.