SSD – Solid State Drive Ecommerce Platform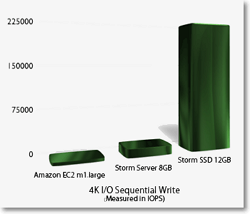 We have optimized our Ecommerce Platform to run on SSD – Solid State Drives.
** Increased Power, Speed and Performance
** Speeds up to 100 Times Traditional SATA
** Eliminates I/O Bottlenecks
** Speeds Faster than Amazon EC2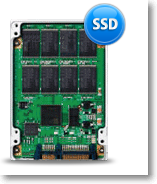 Ecommerce Platform – SSD – Solid State Drive – Increased Performance

Ecommerce – SSD Caching Gives Virtual Private Servers A Huge Performance Boost
Read Full Article By Rachel Gillevet of WiredTree Hosting
The performance of most web sites is heavily I/O dependent. The speed at which the server can access, read, and deliver files to the web server is a crucial factor in determining whether a web site delivers an awesome user experience or leaves its visitors tapping their fingers in frustration
NO MORE SPINNING DISKS
Traditional spinning media is slow. Reading and writing data to standard hard drives is a mechanical process that requires a read head to be positioned in exactly the right place. When there is a lot of reading and writing of data, as is the case with a busy website, the lag between a read or write request and its accomplishment can be considerable. Solid state drives are entirely electronic: they have no moving parts. That means data throughput and reliability no longer depend on technology reminiscent of advanced clockwork. Throughput speeds for SSDs can be 500% faster than a comparable spinning disk.
WHY SPEED MATTERS
The most important benefit of the increased performance of SSD accelerated Virtual Private Servers is the improvement to user experience. Studies have shown that increased performance results in lower bounce rates and higher conversion rates. That's of particular importance for eCommerce sites. Amazon found that for every 0.1 second increase in load time, there was a 1% reduction in sales.
Furthermore, the quality of user experience impacts SEO. Google uses load times as a signal for ranking sites in its search engine results pages. The slower a site is, the more likely it will rank lower than a competitor, an effect that can have a significant impact on traffic and revenue.
The implementation of SSD caching on Virtual Private Servers helps our clients to maintain the best possible load times, improving user experience, conversion rates, and SEO.
When we tested our SSD accelerated VPS's, we found an across-the-board load time decrease of 43% for our client's sites as well as a 154% decrease in average loads and a 190% decrease in I/O wait.
Solid State Drives
Optimal website performance is a key ingredient in customer satisfaction. You need to make sure that your site runs quickly and effectively to ensure that your customers don't get impatient and leave. EnterpriStore uses the best technology possible to deliver the best performance. One way we do this is by using solid state drives, usually referred to as SSD. SSD have no moving parts, so they work much more quickly than traditional SATA drives. There's no lag between the drive receiving a request and processing it, unlike drives that have spinning parts. In fact, SSD deliver speeds up to 100 times faster than SATA. This translates to increased power, speed, and performance for your site. Using SSD means that your site won't be slowed down by bottlenecks or long loading times.
As you already likely know, more powerful performance improves a range of key website parameters. The typical online customer today is impatient; they expect websites to work quickly, and if there's a lag, they're likely to go elsewhere. The better your performance is, the lower your bounce rate will be, and the higher your conversion rate will be. This all helps you to improve customer satisfaction and to net more sales. Google can also detect page load time, and having a faster load time can help you to move higher in Google search results. This will help to bring in more traffic to your site. With all of these factors, make sure that you don't underestimate the importance of performance. EnterpriStore is committed to making performance as powerful as possible, so you'll never have to worry about disappointing analytics or declining sales.