Google Ecommerce Advanced Tracking
Use Google Advanced Ecommerce Tracking to find out what visitors buy through your site or mobile application. Our site is configured to send data automatically to Google Analytics.
Products: Which products they buy, in what quantity, and the revenue generated by those products.
Transactions: The revenue, tax, shipping, and quantity information for each transaction.
Time to Purchase: The number of days and number of visits it takes to purchase, starting from the most recent campaign through the completed transaction.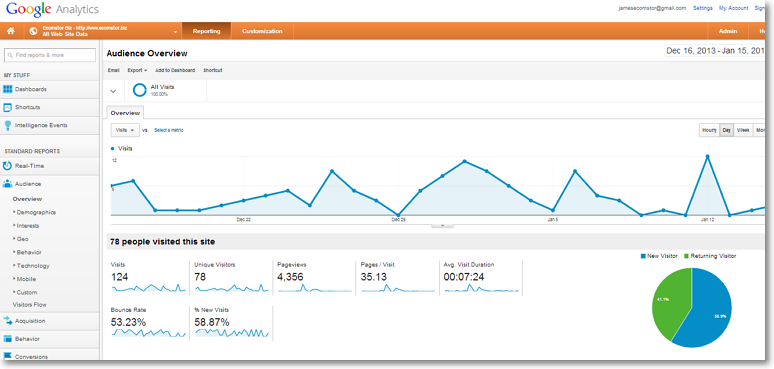 Google Webmaster XML Site Map Submission

Google Analytics
Google is one of the most powerful names in the online world today, and Google's tools are also some of the most powerful. Google Analytics can be a great tool to help you gain more business intelligence. EnterpriStore makes Google Analytics easy to use by enabling you to send your data right to Google's Advanced Ecommerce Tracking tool. EnterpriStore is configured to send data automatically, making the entire process very easy. If you wish to activate this feature, all you need to do is submit a site map to the Google webmaster. EnterpriStore's module will generate a number of XML Google-compliant site maps to send to Google.
If you choose to use Google Analytics, you'll receive a lot of valuable information. Google will track which products your customers buy, what quantities they buy, and who much revenue you generate through product sales. It will also monitor information about transactions, including the revenue, tax, shipping cost, and quantity for every transaction. In addition, Google Analytics will show you the time and number of visits it took your customers to make a purchase. It's very helpful to have all of this information in one place.
Google Analytics presents all of it in easy-to-process graphs and charts, with both overviews and breakdowns of detailed information. All of these graphs are broken down into categories, so it's easy to stay organized and find the information you want. There's even a real time option so you can monitor activity on your site as it happens. With all of this data, you'll be able to make optimally informed business decisions.