Mobile Responsive Design Ecommerce Platform
Checkout Process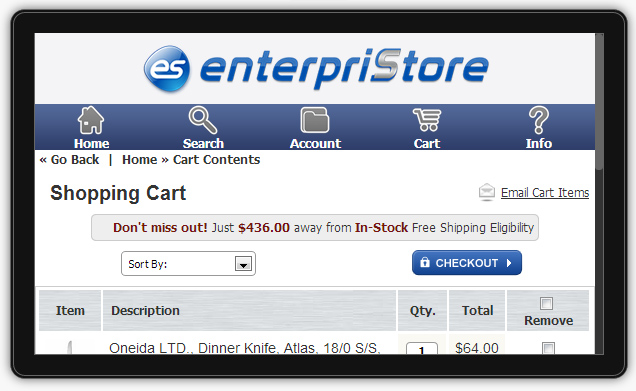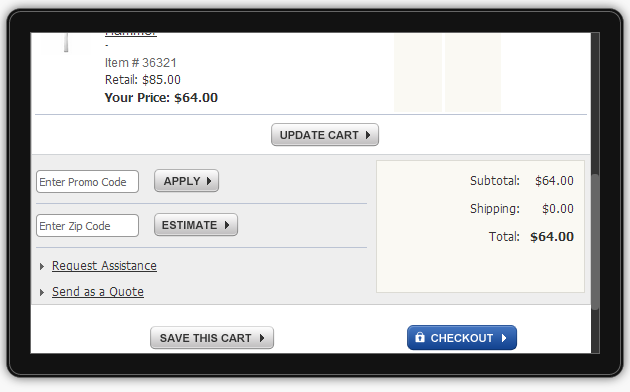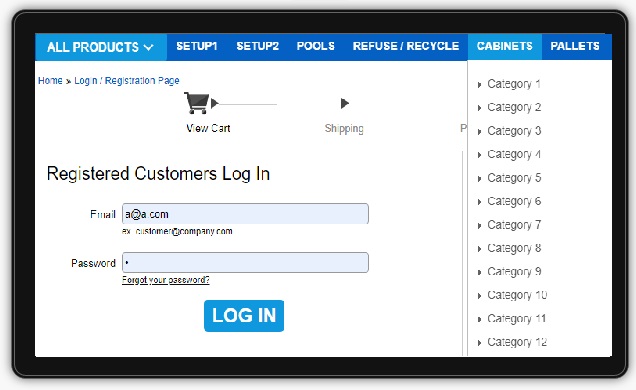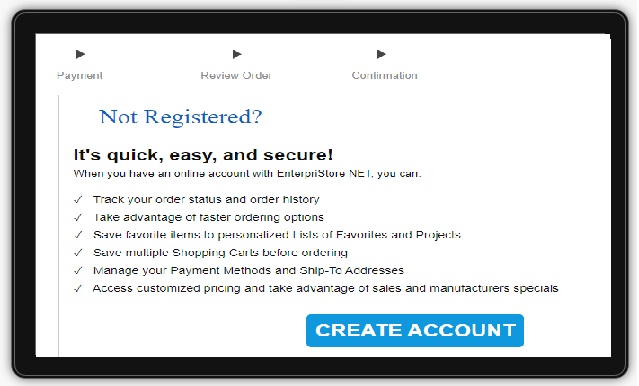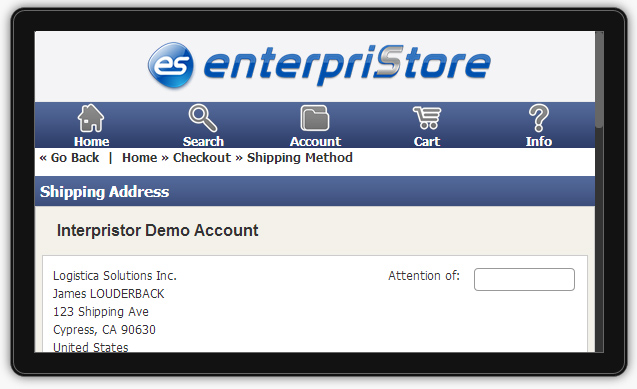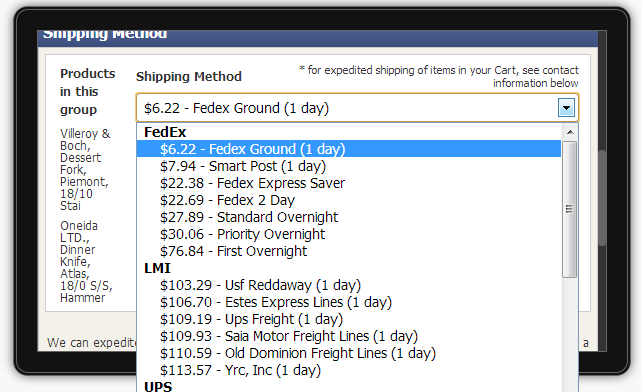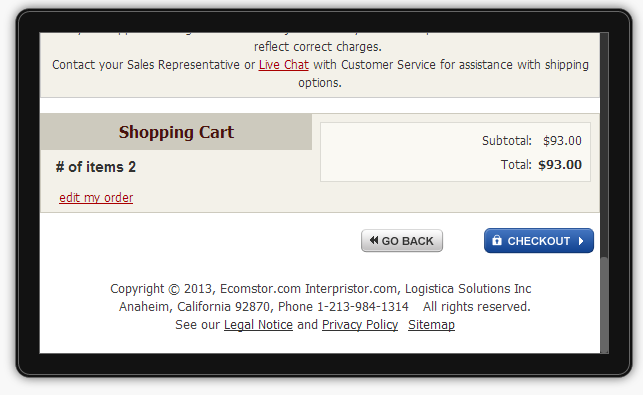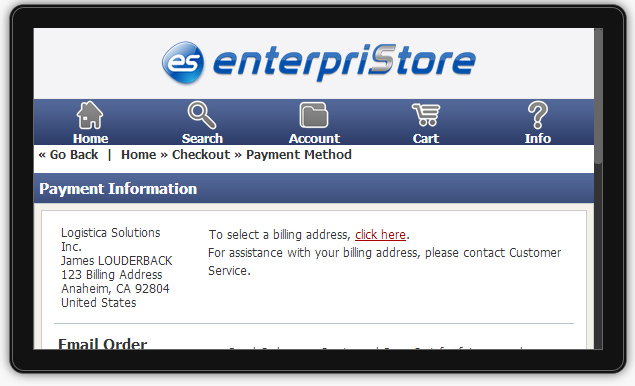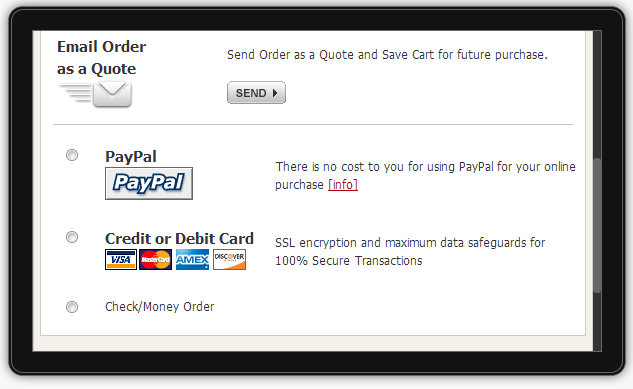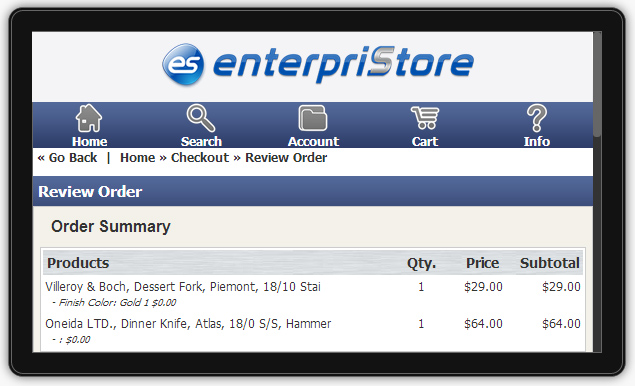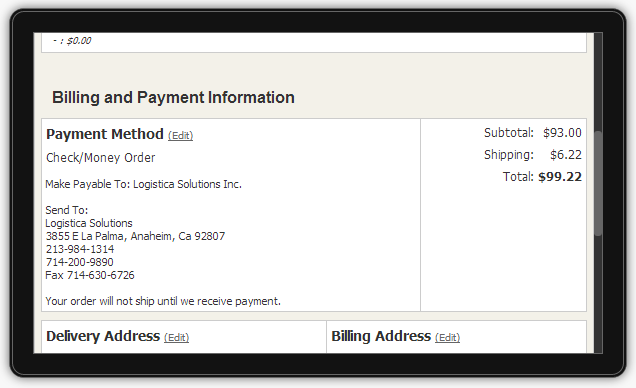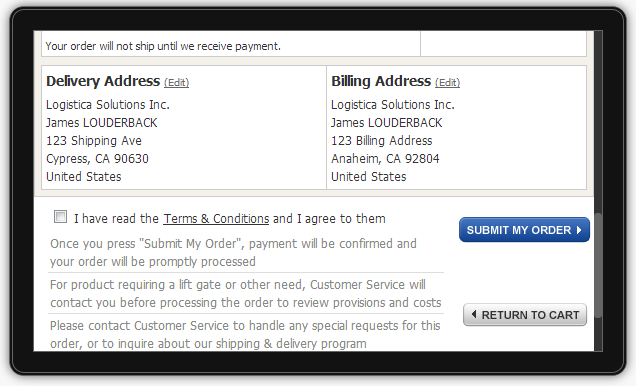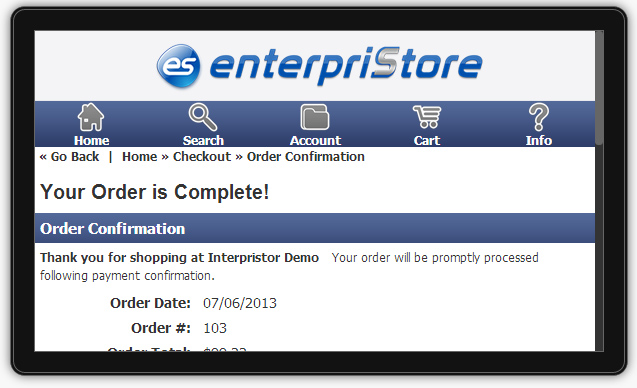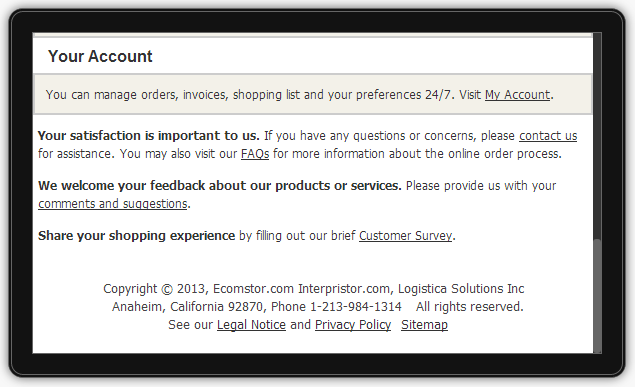 Shopping Cart
Mobile
Full Site
Breadcrumb Trail Of Category-Hierarchy
Free Shipping Messaging Free shipping message for In Stock and Factory Direct orders ( manufacturer specific)
Sort By Pull down for Products In Cart
Save the Cart Save the contents of the cart with user definable name for future use
Email the Cart Email the cart to yourself or another person
Promotional Code Add coupon code and order or parts of the order are discounted
Get a quick estimate of shipping costs.
Review Order Sends the order to Customer service for review and follow-up
Messaging for Incentive to purchase more for Free Shipping
Free Shipping Calculated on In Stock Products
Free Shipping Calculated On Select Factory Direct Products
Sign Into Account
Create a New Account
Free Shipping Program Popup
Continue Shopping Button
Save This Cart Button
Checkout Button
Product Item Listings
Mini Image
Product Name
Product Item Number
Quantity
Retail price
Your Price
Total
Remove Items
Promotional Codes – Process Coupons for Discounts
Estimate Standard Shipping
Email Cart
Subtotal
Taxes
Small Order Charge
Coupon Discount
Checkout
Mobile
Full Site
Welcome
Login
Safe shopping secure Login / Registration
Open New Account
Process and Order as New Account or Guest.
Forget Password
Shipping
Customer Specific Free Shipping Thresholds
In Stock Free Shipping Thresholds
Factory Direct Free Shipping Thresholds
Shipping Address
Change Shipping Address
Shipping Method – Parcel or LTL Depending On Order
Each Different Ship From Location has a possible two (2) different listing depending if it is shipped via Ups and an LTL Carrier.
Free Shipping- Based
UPS Shipping
LTL Shipping
Listing of items in the Shipment and a Pull down to select the shipping option you desire.
When there are multiple locations where a product may be fulfilled from – we can designate the shipper based on Zip codes.
Back Button to Edit Shopping Cart
Order Subtotal & Total
Order Wysiwyg Area
Payment
PayPal
Credit Cards
Pay By Check
Quote Only
Go Back
Checkout Button
Review Order
Detailed Listing Of Products
Delivery Address – Editable
Billing Address – Editable
Payment Info – Editable
Click Box – I have read the Terms & Conditions and I agree to them.
Process Order Button
Confirmation Page
Order Confirmation Info
Order Summary – Email and Pdf sent to Customer
Shipping Information – Customer provides
Your Account – Link to My Account to view all past and open orders
Upsells on Page – You May Also Like
Feedback Link
Estimate Standard Shipping
Estimate Standard Shipping
Customer Survey Link
Enter Login Name and Password
Open New Account
Process and Order as New Account or Guest.
Forget Password
Create An Account
Login Page – Bottom
Mobile Checkout
To ensure that you minimize the number of abandoned carts on your ecommerce site, you need to make your checkout process as easy as possible. This is true for both desktop and mobile users, especially considering that so many users today are shopping on mobile devices. EnterpriStore has designed a mobile responsive website platform so that checkout works just as smoothly on a phone or tablet as it does on a desktop computer. Just like on the desktop version, customers can move to checkout from their shopping cart. If they are not already logged in, they'll be invited to sign in securely or to create an account.
Once they are logged in, they'll begin the checkout process, which consists of a number of simple steps. The first is to enter in their shipping address. If they have added this information to their account, it will be entered automatically. They can then select a shipping option, choosing from a range of carriers, delivery periods, and prices. The next step is to enter their payment information. If they have already entered a billing address into their account, it will be entered automatically. Otherwise, they can enter one manually. If they're not ready to order, they can choose to send their order as an email quote and come back to finish checking out later.
Once they're ready to order, the customer can choose between PayPal, credit or debit card, and check or money order as a payment method. EnterpriStore provides SSL encryption and thorough data safeguards to ensure that all of your customers' payment information will be kept absolutely secure. Once they have entered their payment information, they'll be able to review a detailed order summary. Finally, they can click "Submit My Order" or "Return to Cart" if they need to revise their order. It's a simple process that makes completing a purchase on mobile as simple as possible.